Distance Learning
Western Nebraska Distance Learning Consortium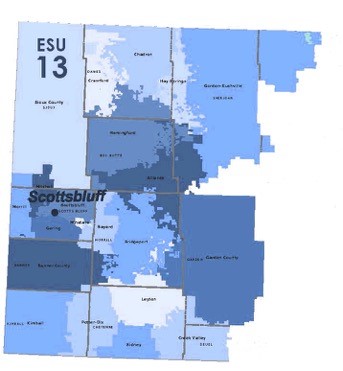 The Western Nebraska Distance Learning Consortium covers the Nebraska Panhandle with 21 high schools, 3 middle schools, Educational Service Unit #13 in Scottsbluff and Sidney, Western Nebraska Community College, and Chadron State College as members.
We are increasing the educational opportunities of staff and students by using the latest in digital fiber optic technology.
The original connections for WNDLC started in 1999, and were completed in January 2004.
The WNDLC network underwent a major, million dollar upgrade during the summer of 2009 and again in 2014. All of the schools video circuits were converted to data and connected to the statewide backbone, Network Nebraska. Also the original DL rooms underwent big changes and were upgraded to IP video capability. With the use of grant funds, over 40 mobile cart video conference systems were also installed over the last two years, almost tripling the video capacity of the WNDLC system.
The WNDLC system includes locations in every community in the Panhandle of Nebraska. There are a total of 30 dedicated DL rooms and over 40 mobile systems connected to the WNDLC system.
The effort continues to expand the virtual field trip opportunities to our students in Nebraska. A big database of VFT programs has been gathered on the NVIS system
Recently the state's ESU distance learning coordinators visited Agate Fossil Beds National Monument to explore their virtual field trip program.